Airport History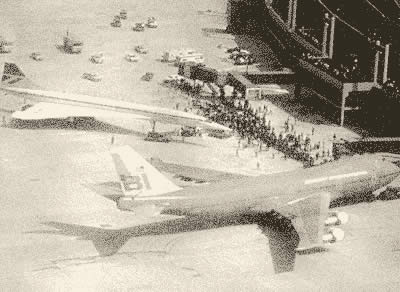 Dallas-Fort Worth Airport Opens January 13, 1974
Origanal image by "Texas Landmark and Legacies"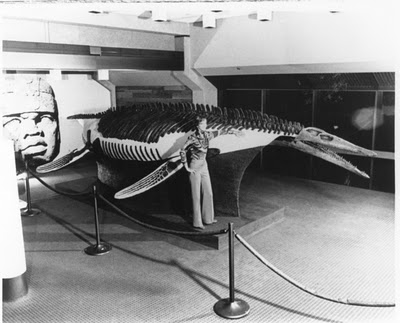 Fossilized bones of a marine reptile on display in DFW Central Utilities Plant.
Unearthed while excavating DFW Airport
President John F. Kennedy arrival at Dallas Love Field Airport
Texas/Dallas History & Archives, Dallas Public Library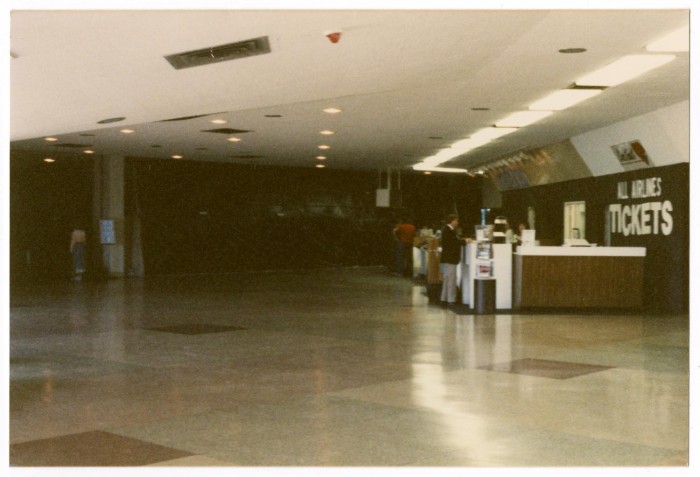 [Dallas Love Field Airport : Interior Renovations], Photograph, n.d.; digital images, (http://texashistory.unt.edu/ark:/67531/metapth66746/ : accessed April 30, 2013), University of North Texas Libraries, The Portal to Texas History, http://texashistory.unt.edu; crediting Dallas Municipal Archives , Dallas, Texas.
Terminal
(Click photos for larger views.)
As early as 1927, before the area had an airport, Dallas proposed a joint airport with Fort Worth. Fort Worth declined the offer, and thus the two cities opened their own airports, Love Field and Meacham Field. Both airports had scheduled airline service, with both fields being famous for their role in the events of November 22, 1963, before the assassination of President Kennedy. President Johnson took the oath of office on the tarmac at Love Field.
In 1940 the Civil Aeronautics Administration earmarked $1.9 million for the construction of a Dallas/Fort Worth Regional Airport. American Airlines and Braniff Airways struck a deal with the city of Arlington to build an airport there, but the governments of Dallas and Fort Worth disagreed over its construction and the project was abandoned in 1942. After World War II, Fort Worth annexed the site and developed it into Amon Carter Field[8] with the help of American Airlines.
In 1953 Fort Worth transferred its commercial flights from Meacham Field to the new airport, which was 12 miles (19 km) from Dallas Love Field.
In 1960 Fort Worth purchased Amon Carter Field and renamed it Greater Southwest International Airport GSW in an attempt to compete with Dallas' airport. GSW's traffic continued to decline relative to Dallas Love Field. By the mid-1960s Fort Worth was getting 1% of Texas air traffic while Dallas was getting 49%, which led to the virtual abandonment of GSW. The joint airport proposal was revisited in 1961 after the FAA refused to invest more money in separate Dallas and Fort Worth airports. Although the Fort Worth airport was eventually abandoned, Dallas Love Field became congested and had no more room to expand. Following an order from the federal government in 1964 that they would unilaterally choose a site if both cities could not come to an agreement on a site, officials from the two cities finally agreed on a location for a new regional airport that was north of the abandoned GSW and almost equidistant from the two city centers. The land was purchased by both cities in 1966, and construction began in 1969.
The first landing of a supersonic BAC/Sud Aviation (now BAE Systems and Aerospatiale) Concorde in the United States occurred at DFW Airport in 1973 to commemorate the airport's completion. Concorde later served DFW from 1979 to 1980 in a cooperative agreement between Braniff Airways, British Airways, and Air France. Braniff ended the service due to low load factors. Braniff was the largest airline to open DFW in 1974 with a full semicircular terminal designated 2W (now Terminal B) devoted to its operations. Other airlines, like American Airlines, only had half a terminal or less. DFW Airport opened for commercial service on January 13, 1974. The original name was Dallas/Fort Worth Regional Airport. The name change to Dallas/Fort Worth International did not occur until 1985. Following the Wright Amendment of 1979, which banned long-distance flights from Love Field, DFW became the only airport in the metropolitan area to offer long-haul commercial air passenger service on aircraft with more than 56 passenger seats.[9] American established its first hub at DFW on June 11, 1981,[10] adding flights to London in 1982, and Tokyo in 1987.[citation needed] American Airlines finished moving its headquarters from Grand Prairie, Texas to a building in Fort Worth located near DFW Airport on January 17, 1983; the airline began leasing the facility from the airport, which owns the facility.[11] Braniff International already had international flights to South America and Mexico in 1974, London in 1978 and Europe and Asia in 1979. Delta Air Lines built up a hub at DFW during the same period but announced closure in 2004 in a restructuring of the airline to avoid bankruptcy. Today, Delta only flies from DFW to its 7 hubs.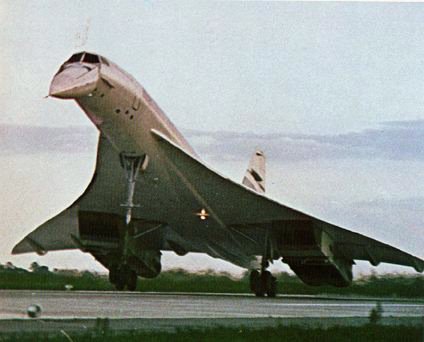 [Historic photos on the left were originally published in http://texashistory.unt.edu/ark:/67531/metapth66746/ , Texas Landmark and Legacies, Texas/Dallas History and Archives, Dallas Public Library. All text was used from https://en.wikipedia.org/wiki/Dallas/Fort_Worth_International_Airport]
This site is used to promote tourism in the Dallas Fort Worth area, and is owned and operated by
Net411.com
.