Comfort Inn DFW Airport North Irving
Location
The Comfort Inn is located three miles northeast of Dallas Fort Worth International Airport. The hotel offers free shuttle service to the airport and within a four-mile radius (based on availability). The Sixth Floor Museum at Dealey Plaza and downtown Dallas are about 17 miles southeast.
Hotel Features
The three-floor hotel has 101 spacious rooms, all with convenient coffee/tea makers, microwaves and mini-fridges. Surf the net with the free Wi-Fi. Some rooms have sofa beds. Eating is one of life's great pleasures, especially when it's hot and free. The hotel spread consists of a rotating menu of waffles, scrambled eggs, sausage patties, pastries, muffins, bagels, toast, cereal, fruit, yogurt, coffee, juice and more.
Free hot breakfast, free Wi-Fi, an outdoor pool and free airport shuttle entice our guests to stay at Comfort Inn DFW North/Irving, which also offers free parking and a free weeknight reception. The free weeknight (M-Th) reception has free beer, wine, soft drinks and bar snacks. The seasonal outdoor pool says: "swim in me. Or you can soak in the hot tub or get your heart rate up in the fitness center. The hotel also has a laundry facility, gift shop, business center and free parking.
Guestrooms
2 Queen Beds /Smoking Room /Free Wired High-Speed Internet
1 King Bed /Smoking Room /Free Wired High-Speed Internet
2 Queen Beds /No Smoking Room /Free Wired High-Speed Internet
1 King Bed /No Smoking Room /Free Wired High-Speed Internet
Prepaid - Book Now, Pay Now
Notifications:

Business Class rooms and complimentary hot breakfast available. A managers reception is held daily from 5:30 p.m. to 7:30 p.m. Free shuttle to DFW Airport from 5:00 am to 11:00 pm. Free wireless high-speed Internet access throught the hotel and in all rooms.
Quick Facts
Check in time: 15:00
Check out time: 12:00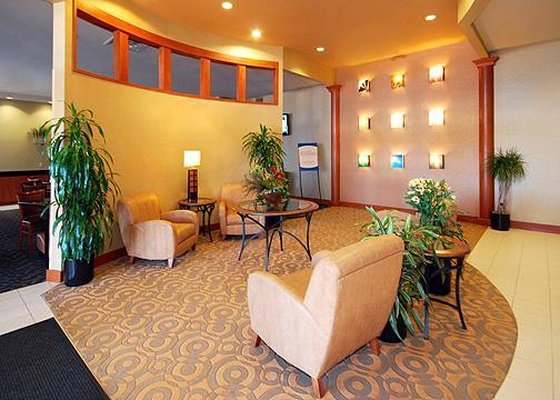 Popular Amenities
Free Breakfast
Swimming Pool
Airport Shuttle
No Smoking
Free Internet
Accessible Rooms/Facilities
Fitness Center/Spa
Business Center
*This amenity may not be available in all rooms or units.
Additional Amenities
Parking
Deposit
Newspaper
Food
Laundry
Phone
Elevator
in room safe
Brailed elevators
Multilingual staff
Copier
This site is used to promote tourism in the Dallas Fort Worth area, and is owned and operated by
Net411.com
.